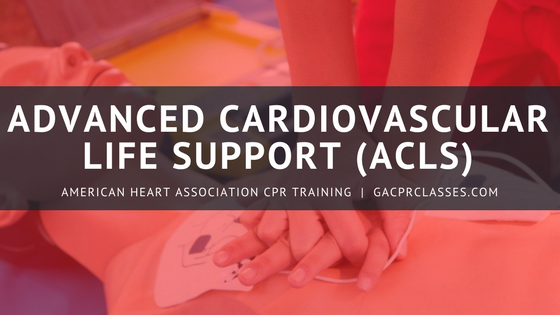 Go to:  Class Characteristics | ACLS Schedule | ACLS Class Registration Form
ACLS Classroom Option
The ACLS (Advanced Cardiovascular Life Support) class is intended for Healthcare Professionals who either direct or participate in the management of cardiopulmonary arrest and other cardiovascular emergencies. This includes personnel in emergency response, emergency medicine, intensive care and critical care units, as well as others who need an ACLS course completion care for job or other requirements.
This classroom option will emphasize the importance of Basic Life Support CPR to patient survival, the integration of effective support with advanced cardiovascular life support interventions, and the importance of effective team interaction and communication during resuscitation.
The simulated clinical scenarios help encourage active, hands-on participation through learning stations where students will practice essential skills individually, as part of a team, and as a team leader.  Our realistic simulations will help reinforce the following key concepts of ACLS:  Proficient BLS care, Recognizing peri-arrest conditions, Managing cardiac arrest, ACLS algorithms, Team resuscitation dynamics, and recognizing other life-threatening clinical situations such as stroke.
Class Characteristics
Examples of Healthcare Providers who need ACLS: Healthcare professionals who either direct or participate in the management of cardiopulmonary arrest or other cardiovascular emergencies.  This includes personnel in emergency response, emergency medicine, intensive care, and critical care units such as physicians, nurses, and paramedics.
Course Content: Basic Life Support Skills (BLS) including bag-mask and AED, Cardiac Arrest, Bradycardia, Airway Management, Related Pharmacology, ACS and Stroke, and Effective communication as a member or leader or a resuscitation team
Format/Time: Blended training option.  The student will take an online assessment test and watch four videos prior to coming to class.  This will help us better tailor the information the day of the class to the students needs and it cuts down on the time needed for class.  The online part of class takes 1.5 hours to finish and the classroom and checkoff portion take 4 hours to complete.
Cost of Classroom Option:  $225 Initial ($185 Renewal)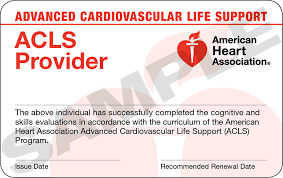 ACLS Certification Card
 Skip to:  ACLS Schedule | ACLS Class Registration Form
Why choose GAcprclasses.com?
Cards issued same day, NO waiting period
American Heart Association Certified Instructors
Classes available 7 days a week, day or night, to accommodate anyone's schedule
We can teach at your office for NO additional charge (Discounts may be available)
Online Learning Options Available For Most Classes (Less time spent in office)
2 Year Certification Cards
Classes held at 3 different locations in the Greater Atlanta area
More Individual and Hands on Training because we keep our classes small
ACLS Class Schedule
Even though classes are scheduled 7 days a week, you MUST have a reservation to attend classes.  Seats in classes are limited and we need to have the correct cards on hand to issue so that you do not have to wait for your certification.  Sometimes classes do not have any students sign up for that day and instructors are not in the office unless there are classes to teach.
Specific location schedules can be found here: Emory University,  -or-  Marietta
ACLS Class Registration Form
Please fill out the ACLS Class Contact Form below to reserve your spot in an upcoming class.  An invoice will be sent for payment after we have received your registration form.
If you still have questions about an ACLS class, please use the Contact Us page or email us at gacprclasses@gmail.com with any questions to get the fastest response.  It is often difficult to reach us by phone because we offer so many classes.
Group ACLS Training
GAcprclasses.com can travel to your home, business, or office to teach group ACLS classes.  All of our teaching supplies are transportable, allowing us to come to complete one of our classes.  Certification cards are issued the same day you complete training.  Group discounts with 4 or more students.
Please use the following form to contact us about coming out to your home or business for group ACLS training.
Other American Heart Association CPR Classes