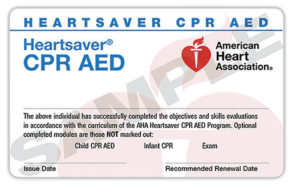 CPR AED Card | GAcprclasses.com
Go to:  Class Characteristics | CPR AED Schedule | CPR AED Class Registration Form
Heartsaver CPR AED Class
The Heartsaver CPR AED class is intended for anyone with limited or no medical training who need to know how to perform CPR, as well as other lifesaving skills to meet a job requirement.
This class is ideal for learner who prefer group interaction and feedback from an instructor while learning skills.  We will cover bother single and double rescuer situations to show the difference and importance of teamwork in life saving situations.  With the new guidelines in 2015, main focus will be on the critical concepts of high-quality CPR, starting with chest compressions.
Class Characteristics
Examples of who needs Heartsaver CPR AED training (non healthcare):  Teachers (for clear credentials), summer camp counselors, coaches, fitness instructors for ACE exams, maritime (US Coast Guard approved), nannies, parents, grandparents, babysitters (ten years or older), general workplace, and others who must have a credential (card) documenting successful completion of a CPR course.
Course Content:  Critical Concepts of high-quality CPR, 1 and 2 rescuer CPR and AED for Adult/Child, Difference between Adult/Child/Infant rescue techniques, and Choking first aid.
Format/Time:  The Heartsaver CPR AED class will take 2-3 hours depending on your initial knowledge of CPR.
Cost of Heartsaver CPR AED Class:  $70 per Student
Offered only at this location:  Conyers
Skip to:  CPR AED Schedule | CPR AED Class Registration Form
Why choose GAcprclasses.com?
Cards printed same day, NO waiting period
American Heart Association Certified Instructors
Classes available 7 days a week, day or night, to accommodate anyone's schedule
We can teach at your office for NO additional charge (Discounts maybe available)
Online Learning Options Available for most classes (Less time spent in office)
2 Year Certification Cards
Classes offered at 3 different locations in the Atlanta area
More Individual and Hands on Training because we keep our classes small
Heartsaver CPR AED Class Schedule
Even though classes are scheduled 7 days a week, you MUST have a reservation to attend classes.  Seats in classes are limited and we need to have the correct cards on hand to issue so that you do not have to wait for your certification.  Sometimes classes do not have any students sign up for that day and instructors are not in the office unless there are classes to teach.
The registration form for your seat for one of our upcoming classes can be found under the schedule below.  CPR AED Classes are available in Conyers only.
CPR AED Class Registration Form
Use the following form to make your reservation for class. We will send an invoice for you to pay in advance to guarantee your seat and a card to issue upon completion of training.
Still have questions about a Heartsaver CPR AED class?  Due to scheduling so many classes, it is often difficult to reach us by phone.  Please use the Contact Us page or email us at gacprclasses@gmail.com with any questions to get the fastest response.  
Online CPR AED Class and Skills Checkoff
Don't have 2-3 hours to come to the office for a full class? The American Heart Association understands that every one's time is important and they have set up the video and testing portion for you to do at home, at your own time and pace.
You will still have to come to the office to demonstrate your CPR skills on the practice manikins, but since you complete the majority of the work at home, you are only in the office for 45 minutes to perform the skills checkoff.  
This option covers all of the same material the classroom option does, but just allows the student better use of their time and schedule.  You will have access to the online information for the 2 years your card is valid, allowing you to review at any time.
Online Skills Checkoffs are available 7 days a week, but by APPOINTMENT ONLY.  Upon completing the online portion, you will need to print the certificate of completion and email us to schedule a time for your checkoff.
Click Here to learn more about the Online Heartsaver CPR AED Class option.
Group CPR AED Training
All of our supplies for the Online CPR AED Classes are portable and we offer group CPR training at your business or office.  As long as you have adequate space for everyone to gather for class (conference room, office lobby, empty office, etc), we can come to you for class and even offer a group discount rate.  Please use the following contact form to contact us about scheduling CPR AED training for your group.
Other AHA Classes Available