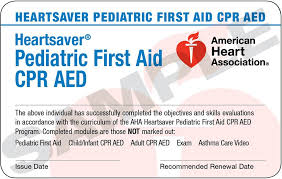 Online Pediatric First Aid CPR AED Class and Skills Checkoff
This class is intended for anyone with limited or no medical training who are responsible for children and would need to know how to respond to different emergency situations involving children and infants.
This class is ideal for learner who prefer group interaction and feedback from an instructor while learning skills.  We will cover First Aid Basics, Medical Emergencies, Injury Emergencies, and Environmental Emergencies involving children and infants.
Examples of People who need Heartsaver Pediatric First Aid CPR AED Class:  Daycare Workers, Teachers, Coaches, Foster Care Workers, Camp Counselors, Youth Group Leaders,  and others who must have a credential card documenting successful completion of training involving children and infants.
Course Content:  First Aid Basics to help treat medical, injury, and environmental emergencies involving Children and Infants.
Format/Time:  The Online Heartsaver Pediatric First Aid CPR AED class will take 2 hours at home depending on your initial knowledge of First Aid and CPR.  The skills demonstration in office takes 30-45 minutes.
Cost of Online Option:  $95
Offered only at this location:  Conyers
If you select this option, GAcprclasses.com will send you instructions and key code within 4 hours of your order (we may be teaching class). Upon completing the online portion, you will need to print the certificate of completion and contact us to schedule a time for your checkoff.  Your certification card will be printed for you at the time you complete the in office portion. Checkoffs are available 7 days a week for you convenience.
Click Here to learn more about the Pediatric First Aid CPR AED Classroom Option if you prefer more teacher interaction.
To purchase an online Pediatric First Aid CPR AED class, find the "Purchase an Online Pediatric First Aid CPR AED Class" box found below or to the right.  Pick the class from the drop down menu and hit "Buy Now" to be directed to Paypal to complete transaction.  You DO NOT have to have an account, you can click "checkout express" underneath the log in boxes to pay as a guest.
Ask us about coming to your office to teach class or for a skills checkoff at no additional charge.  Group discounts available for all classes.
Why choose GAcprclasses.com?
Cards printed same day, NO waiting period
American Heart Association Certified Instructors
Classes available 7 days a week, day or night, to accommodate anyone's schedule
We can teach at your office for NO additional charge (Discounts maybe available)
Online Learning Options Available For Most Classes
2 Year Certification
Conveniently Located to the Atlanta area
More Individual and Hands on Training because we keep our classes small